Classic Ruffle Lace Parasol Women's Straight Umbrella
Straight umbrellas are also very good in a variety of types, including polyester, touch, nylon, oxford, TNT, etc. It is widely used in commercial applications. With the diversification of advertising formats, straight umbrellas will also be diversified
This Classic Ruffle Lace Parasol Women's Straight Umbrella is pretty and practical umbrella to carry wherever the user goes. This is perfect for rainy and sunny days, the user can even match it to whatever outfit they have. The showery days no longer to be so gloomy and dull. With its colour and ruffle lace it makes the user happier even in miserable weather conditions. It has a top end decoration to make it even more stunning. And a rattan handle to look classic and stylish.
This manual open women's straight umbrella has a mix of cotton and polyester fabric that is a better shield against the harmful rays of the sun. The ruffle ladies hand open straight umbrella is constructed of durable metal ribs to allow greater stability in high winds. For better user protection, we incorporate a safety runner so it will prevent finger pinching. It also has a joint cover for better flexibility of the frame. A snap button helps the umbrella contained when not in use.
Being a professional umbrella vendor for many years, Hyades Umbrella specializes in manufacturing various of high-quality umbrellas and parasols at competitive prices. Plus, we have a reliable team whom always working on continuous improvement program to satisfy all of our clients' needs and provide the valuable products all the time.
Related Products: Ladies Manual Open Straight Umbrella With Pico Lace | 10 Ribs Auto Open 2 Folding Umbrella Check Print Auto Open And Close Folding Umbrella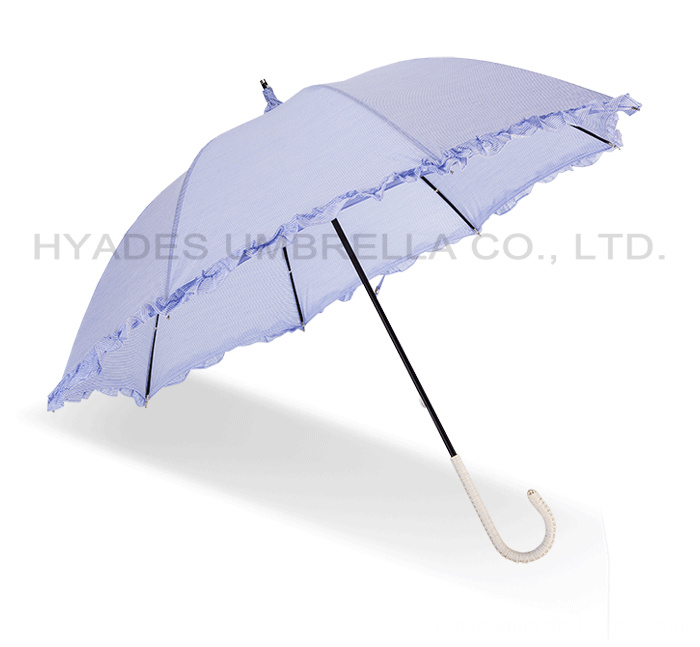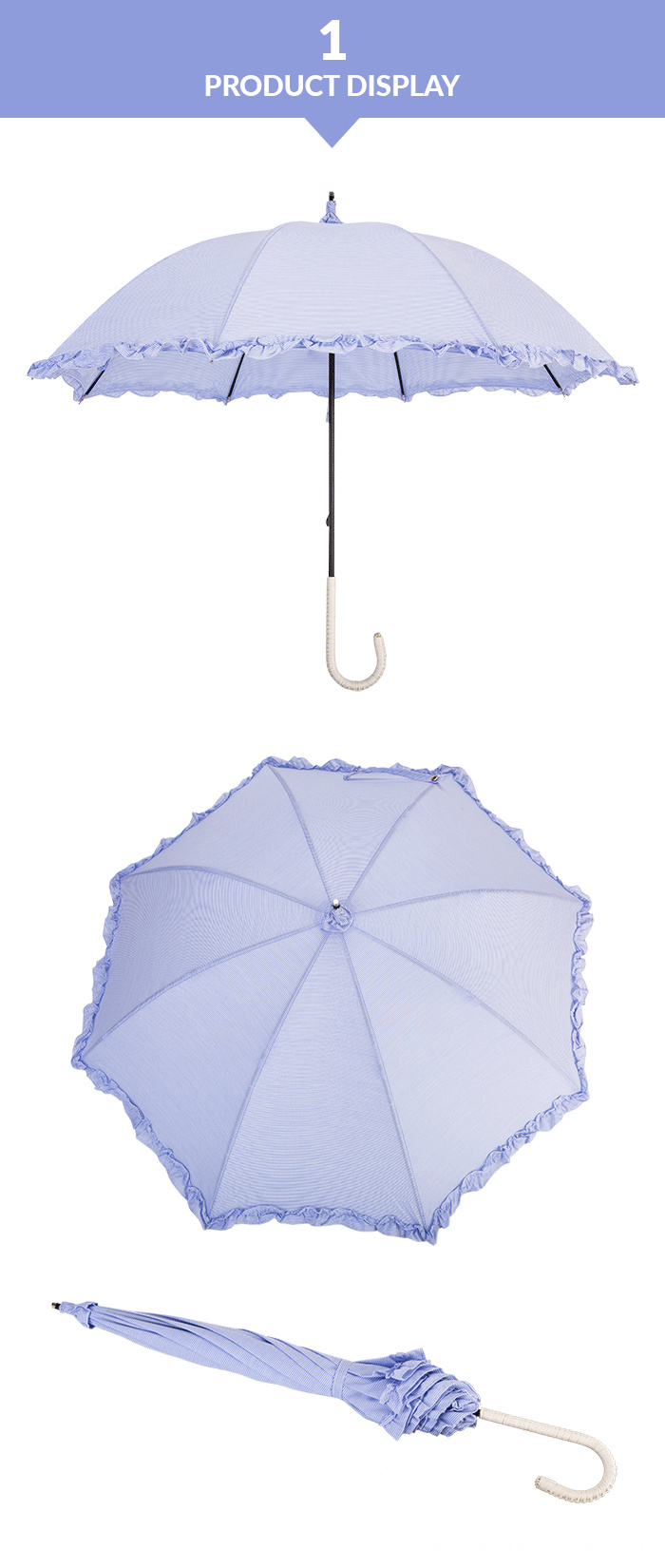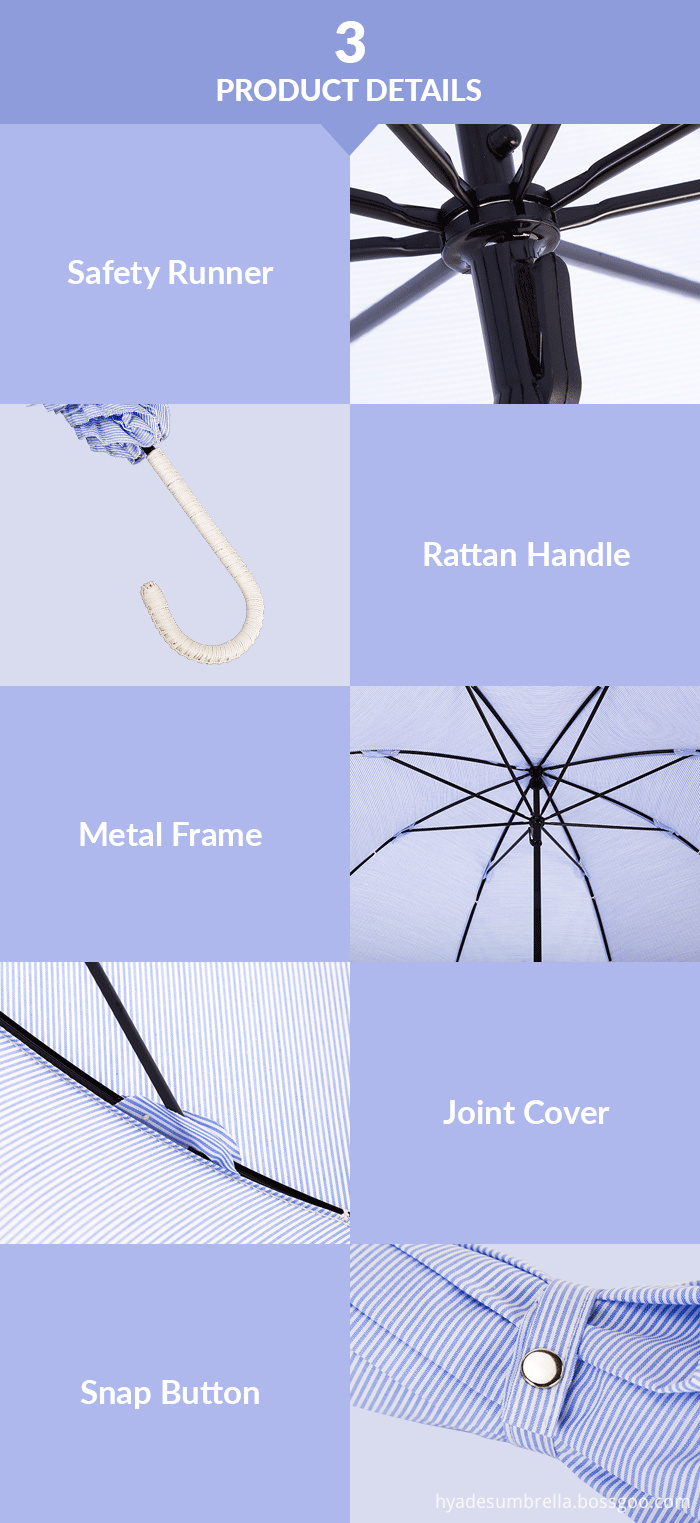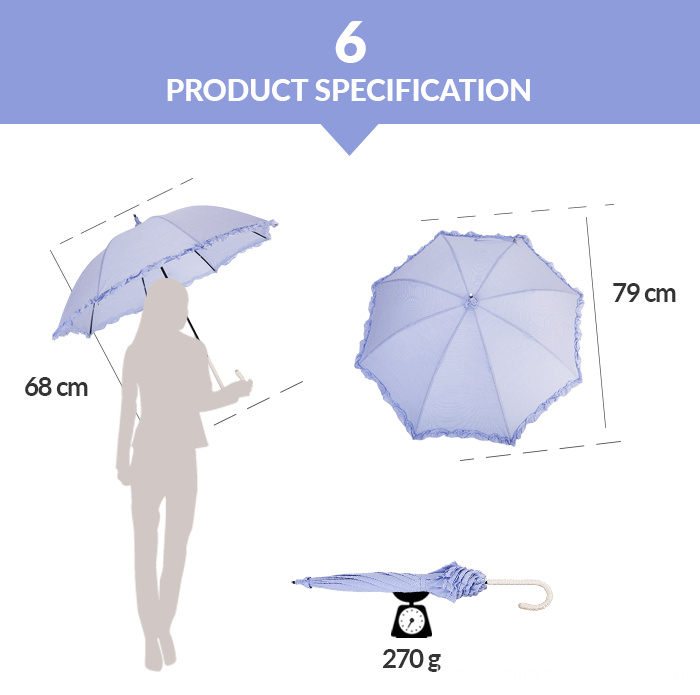 | | |
| --- | --- |
| *Details: | |
| Weight: | 270 g |
| Arc.: | 47 cm |
| Diameter: | 79 cm |
| Height: | 68 cm |
| Sleeve: | Optional |
| | |
| Fabric: | Mix of Cotton And Poly |
| Waterproof: | Yes |
| Water-repellent: | Yes |
| | |
| Frame: | |
| Shaft: | Metal |
| Ribs: | Iron |
| Handle: | Rattan |
About us:
Hyades Umbrella is a one-stop company that provides Support, Knowledge and Advice for your umbrellas collection. It is important to work with a company that has in depth knowledge of umbrella manufacturing. To ensure all technical elements are communicated accurately, we can provide precise specification sheets including materials, color swatches, samples as well as pre-production samples so the bulk production meets your design.
Umbrella production procedure: