Defy the logic of Mother Nature with the Ruffle Lace Women's Manual Open Straight Umbrella. Stay dry and protected against any outdoor elements through its waterproof and quick drying canopy. Made of Mix of Cotton and Polyester Fabric - For Better Sun Shield. When Mother Nature`s at her worst the user can be protected with its metal frame. Plus, this Manual Open Straight Umbrella with Ruffles Lace is a unique umbrella that has a top end decoration and ruffles lace around the edge. That makes this umbrella a remarkable design on the modern days.
This umbrella has safety runner to open and close smoothly. And a joint cover adds protection to the joint resulting to the sturdier umbrella. This is a perfect balance of strength and flexibility so that it can withstand a heavy downpour and strong wind and can last for a long period of time. We also incorporate a snap button so the user can easily store this umbrella when not in use.
Hyades Umbrella distributes a wide selection of umbrellas including pre-made styles for decorating with corporate or advertising branding. As the manufacturer, we offer the best price on all products and have the power to be flexible on those all-important delivery dates.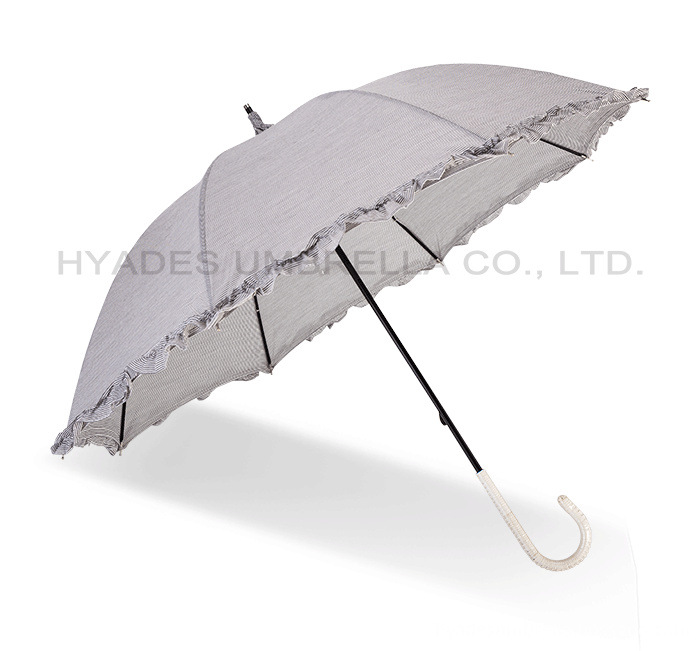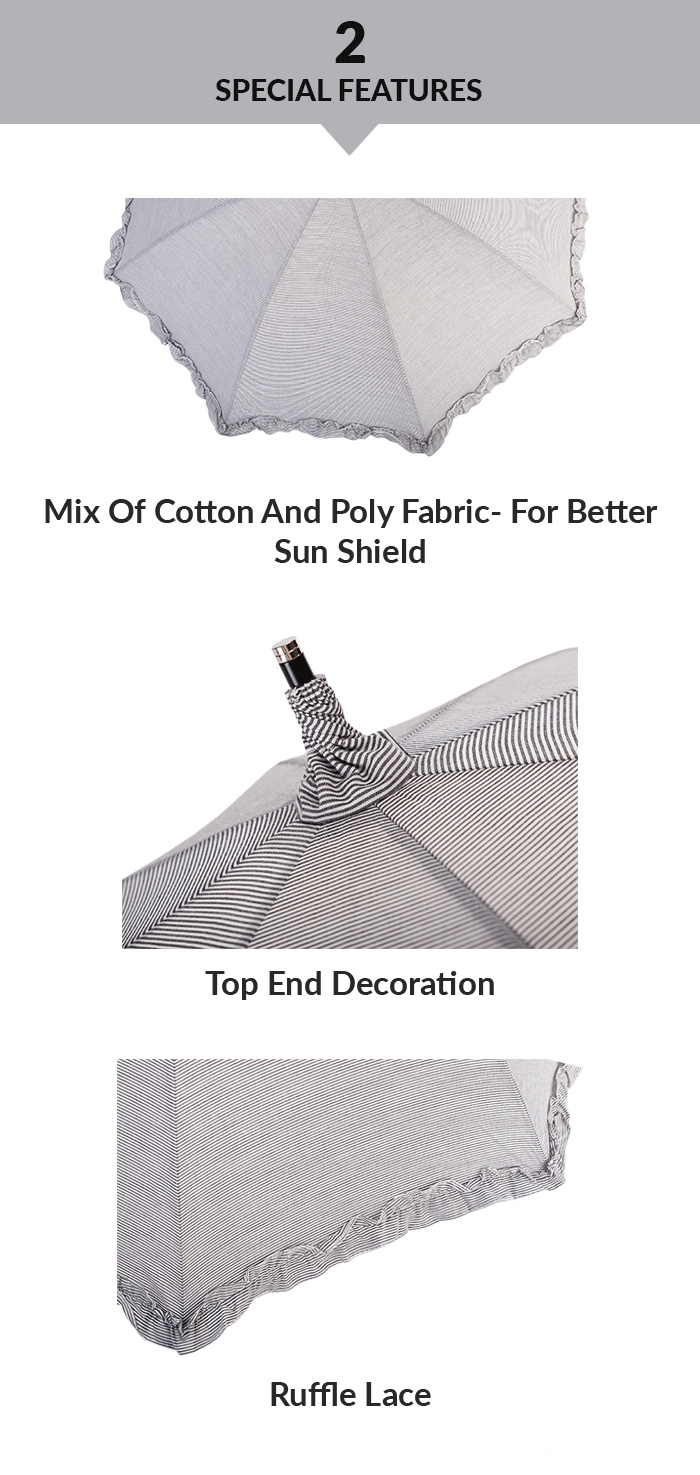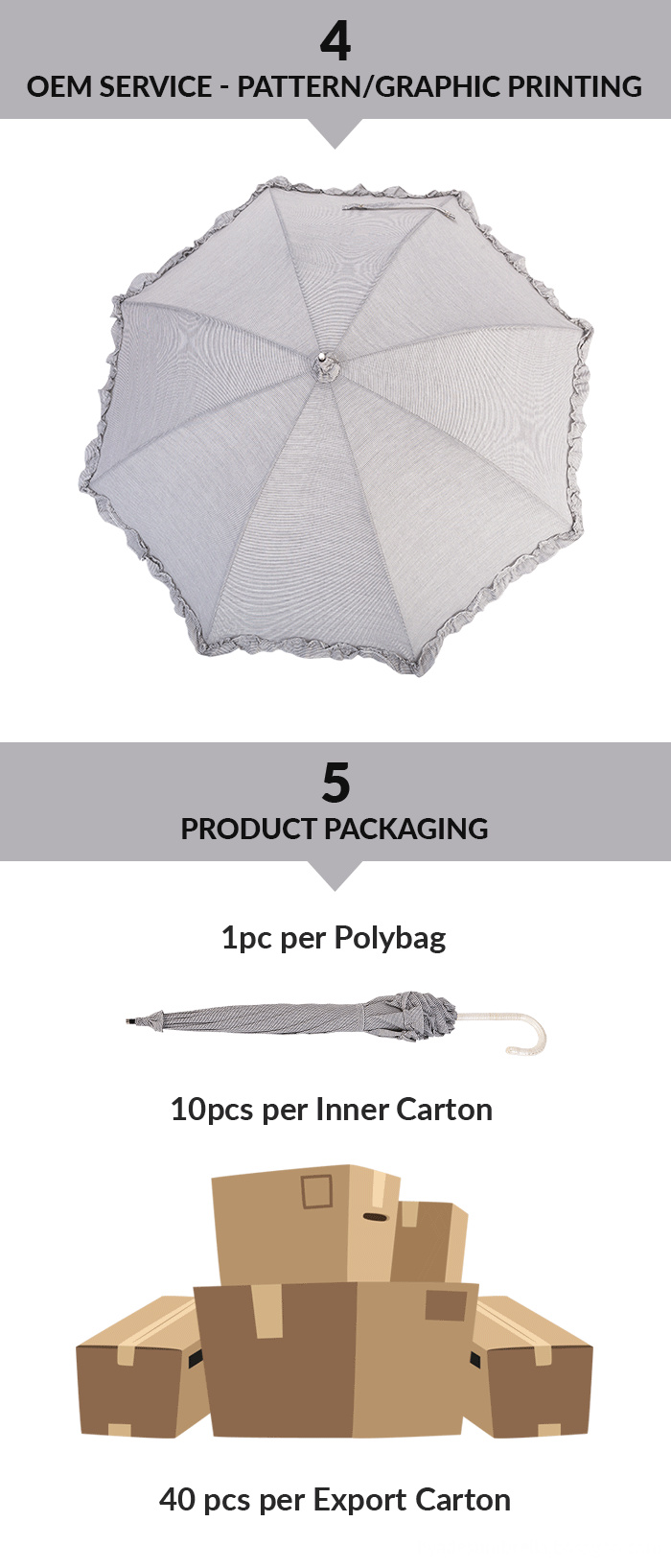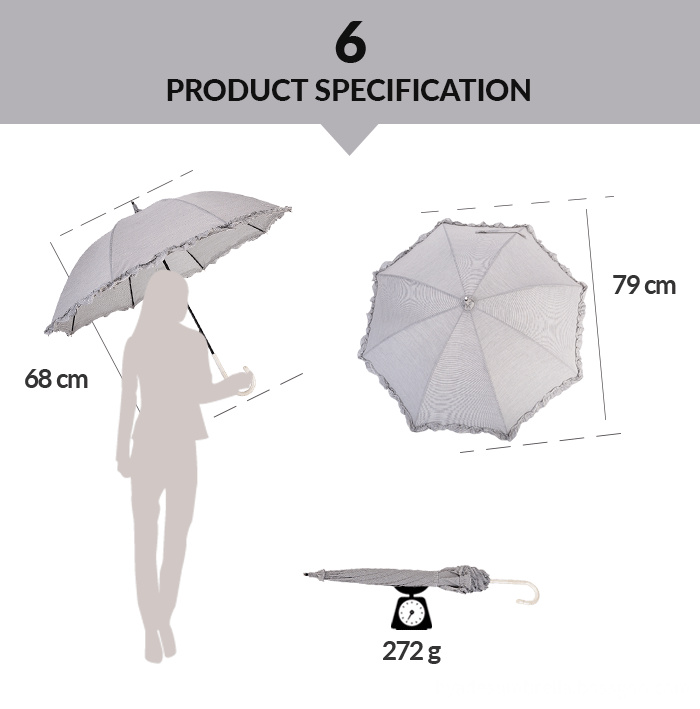 | | |
| --- | --- |
| *Details: | |
| Weight: | 272 g |
| Arc.: | 47 cm |
| Diameter: | 79 cm |
| Height: | 68 cm |
| Sleeve: | Optional |
| | |
| Fabric: | Mix of Cotton And Poly |
| Waterproof: | Yes |
| Water-repellent: | Yes |
| | |
| Frame: | |
| Shaft: | Metal |
| Ribs: | Iron |
| Handle: | Rattan |
About us
Hyades Umbrella is a one-stop company that provides Support, Knowledge and Advice for your umbrellas. It is important to work with a company that has in depth knowledge of umbrella manufacturing. To ensure all technical elements are communicated accurately, we can provide precise specification sheets including materials, color swatches, samples as well as pre-production samples so the bulk production meets your design.
You can be assured of the best outcome and smoothest development process to market with the help of our team of experienced and knowledgeable Umbrella Masters.
We are a Taiwanese company specializing in manufacturing various upmarket and designer brand umbrellas. Our company's mission is to achieve the highest standard of quality in the field and to go above and beyond our client's expectations. Our product range from straight umbrella, pagoda umbrella, toy umbrella, folding umbrella, auto open and close folding umbrella, through to golf umbrella; from Children size to Adults; from Men umbrella to Women's umbrella.
Umbrella Production Procedure